Red Stylo is rock-n-rolling out stories from our newest anthology,
The 27 Club
, on Patreon! Subscribe for only $2 and you get a new story from the collection every two weeks, plus 15% off everything in Red Stylo's digital store!
Patreon is a great way to support indie comics and to keep up to date with all things Red Stylo. Check it out at Patreon.com/RedStylo!
Alone, disillusioned, and full of questions, Kurt Cobain picks up a shotgun and breaks on through to the other side.  There, he hitches a ride on The Lizard King himself to find a world where the sky isn't even the BEGINNING of the limit, and where all roads lead home.
This slideshow requires JavaScript.
Storytellers Pablo Arriaga and Chuck HA take you on a wild ride where Jim Morrison is God and rock n' roll never dies.  "Come As You Are to the Morrison Hotel," is a real trip!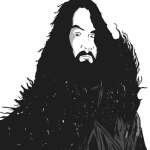 Pablo Arriaga is a writer and most righteous metalhead based out of NYC who has written short films, comic books, opinionated articles and comedy sketches for both digital and stage productions. He even translated a children's book into Spanish. When not typing words into his computer he spends his days working at Forbidden Planet and dreaming of the beautiful dragon slayer who will defy all the odds to rescue him. For more information visit WhateverWillHappen.com.
Chuck Harrison a.k.a. ©huckHA! lives with his son called Puff and his cat named Monkey in New York. His caffeine fueled rants have been published by DC Comics, Color Ink Book, Realtalk Magazine, Thought Catalog and in many other fine publications. He's also the co-author and illustrator of The Belief Book with David G. McAfee, which is a #1 Bestseller. For more information or to get weird please visit iLikeChuckHA.com.
For
The 27 Club: A Comic Anthology
, a rocking crew of fifty-four comic artists and writers were challenged to take their favorite song or member of the 27 Club and use their music as inspiration for new and original comic stories and vignettes. This collection is a rocking tribute to a select few of these lost stars and their shining, tragic legacy.
Stories are rolling out right now on Patreon!
Get them delivered directly to you when you subscribe!