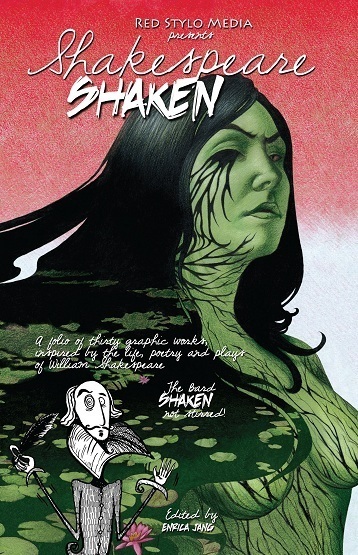 Enrica Jang
Dirk Manning
Jeremy Whitley
Jeremy Whitley is the Eisner nominated writer/creator of the hit all-ages title Princeless and the upcoming The Order of Dagonet. He is a graduate of The University of North Carolina with a degree in English and Creative Writing. He is co-founder of Firetower Studios and Head of Marketing for Action Lab Entertainment. He lives in Raleigh, NC with his wife Alicia and daughter Zuri.
[hr]
Alex Cormack
Richard Douek
Gabriel Dunston
David Fernandez
Matthew J. Fletcher
Andre Frattino
Laura Guzzo
Laura Guzzo is a freelance illustrator whose award-winning artwork has been featured in galleries across the East Coast, in addition to appearing on book covers and t-shirts. Laura enjoys working in many different media, including colored pencils, watercolor, and collage. She draws inspiration from tarot cards and stained glass, as well as from 1950's pin-up girls and the art nouveau movement. She currently works out of her studio in South Jersey and is a part of the artist's collective Rough Sketch Studios. Most recent projects include Amaranthine (Machine Age Productions) and PrinceLess (Action Lab Comics). To see more, visit: www.LauraGuzzoArt.com
[hr]
Shawn Harbin
Bobby Harper
Mitchell Hyman
Andrew Jerz
Andrew Jerz was raised on a Sandy Beach off of Route 3A a few miles south of Boston, USA on the passing tales of glory in a place called Cohasset Town. By trade, he was a butcher – was well learned and well paid, but like the old boardwalks and family-owned hardware stores of his hometown that knelt to progress, his trade's lost to memory. He courted Sally Quigly, who was as pretty as you pleased, but a rogue child of Mary of the Boston branch of the Tea Party. He lost her to a carnival ride operator with a bald head as smooth as a baby's ass, and when he took her back to Ohio he took away Andrew's soul. It was at this juncture that he became an illustrator, training under the likes of James Ransome, Roger Demuth, John Thompson, and Jerome Witkin – a genius painter that once referred to illustrators as "the barnacles that feed on the whale of Fine Art." More personally, John Thompson once referred to Andrew's work as "fuzzy, at its best." Andrew has done editorial work for a number of publications mostly headquartered between Springfield, MA and Buffalo, NY at equally spaced intervals along the I-90 corridor (once known as the Mohawk Trail and, at some points, the Erie Canal); he has lived in Boston City with his illustrious Common Sense Advisor, Susan, since the rare old times.
[clear] [hr]
Sherezada Kent
Seva Khibkin
Seva Khibkin is an artist, designer and developer in the Boston area. His degree is from the Art Institute of Boston at Lesley University. He has worked on a number of projects, and enjoys collaborating with other artists in the area.
[hr]
Ashley Lanni
Amber Love
James McGee
Kristen McHugh
Kristen McHugh is a Pittsburgh-based writer and spoken-word performer. A life-long activist, Kristen is hard at work saving the world through her work in nonprofits, when she's not plotting world domination through geekery on twitter, @kristenmchugh22. This is her first published comic.
[hr]
A.I. Miller
The Brothers Moogk-Soulis
Mark Mullaney
Seth Mullins
Shaun Noel
Jarrod Perez
R. Robert Pollak
Erik Radvon
Michael Reisner
Jhazmine Ruiz
Jon Santana
In between odd jobs and the pursuit of his education, Jon Santana reads, writes, takes pictures, and surfs the internet at an alarming rate. His other hobbies include motorcycles and the occasional nap, although he reports feelings of guilt upon waking. Last spotted in Gainesville, FL, he is older than he looks and exists almost entirely on sandwiches and caffeine.
[hr]
Ryan Schrodt
Erica Schultz
Jason Strutz
Marta Tanrikulu
Marta Tanrikulu edits and writes technical, educational, marketing, and creative materials, including the occasional story. Trained as a scientist, she worked as a researcher and editor in the biotech industry before founding her company, TanMar Editorial.
[hr]
Podcast Interviews with Shakespeare Shaken contributors
Blogs and Reviews
---
MORE RED STYLO ANTHOLOGIES
Shakespeare Shaken
A collection of original graphic works (short comic stories, short series and vignettes) inspired by the plays, poetry and life of William Shakespeare. The folio features work from over thirty comic artists and writers.
---
Hah! Got this one in just under 6 hours left in 2015. I'll probably pretty up with a few more pictures, some better word edits, and some personal touches in the next day or so, but for now it's here and ready as it will get today. Hats off to you, 2015.... read more